At some point in the future, it will be the last day of your life. We don't know when and how you will die, but we are certain it will happen. Can you imagine leaving this world with a smile upon your face?
In a culture that represents death mostly in the context of tragedy, violence, and catastrophe, it is difficult to see the end of life as a peaceful event. We often tend to treat death as a dreadful enemy that needs to be fought and prevented. With such a thought pattern, we are bound to failure. What if we were to not only accept death's inevitability, but also as embrace it as valuable part of our lives?
Anja Franczak invites us to get in touch with Our Death. In this interactive performance, you are welcomed to step closer and say hello to your mortality in a friendly manner. In the gallery space you will be able to attend individual sessions with Anja, Death Cafe meetings, lectures and workshops. One of them will be an open workshop by Razalina Busel, during which the artist will create an installation – a spiral mandala made of small imprinted forms in the shape of a coffin. Over the course of two weeks, you can not only witness but also participate in a process of transformation.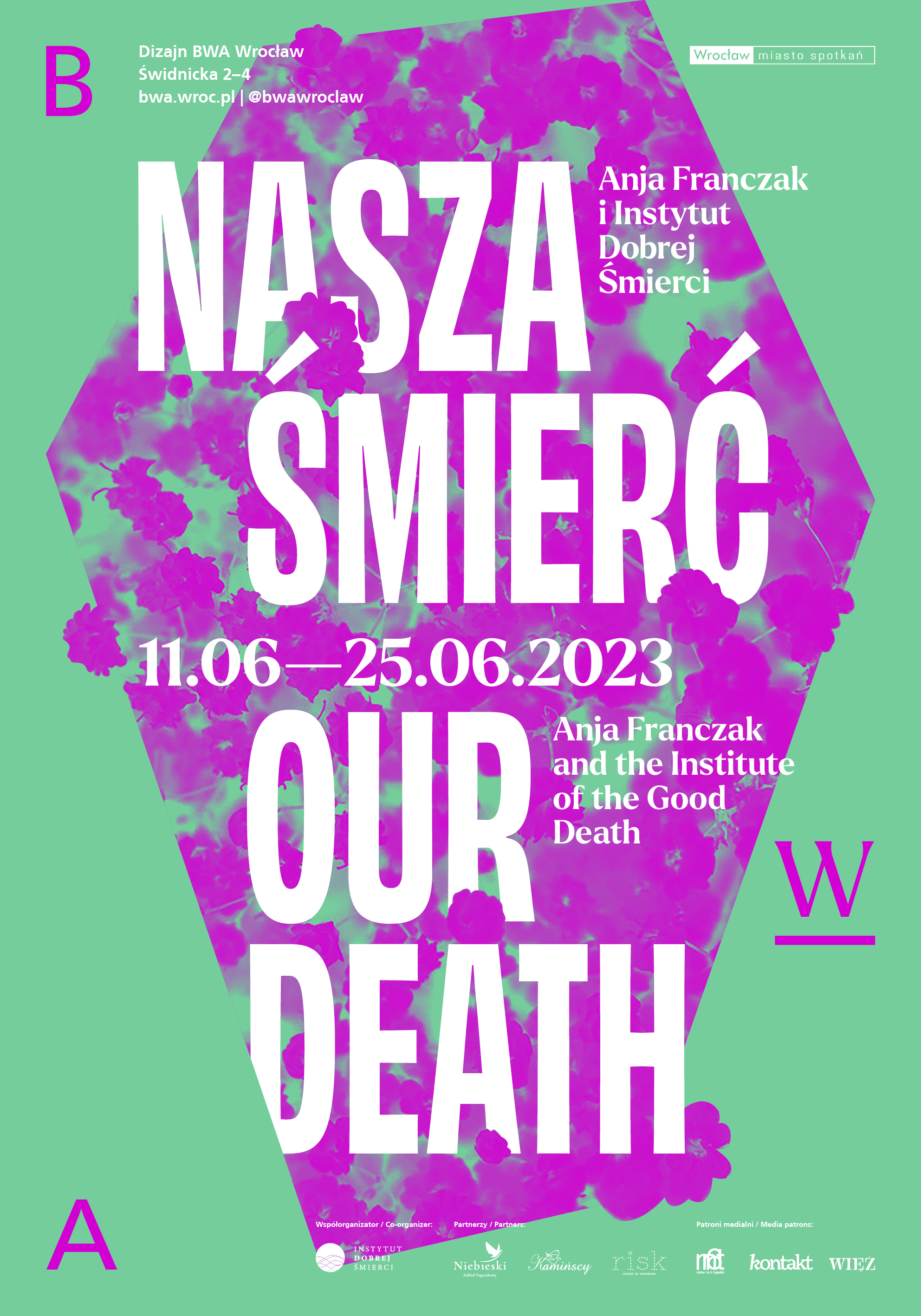 JUNE 11: CREATION
Panels of wood are brought into the empty gallery space. As the pieces come together and take a new shape, we witness the construction of a coffin. Once the box is ready, it receives a cosy, hand crafted textile inlay. The coffin is then turned into a collective piece of art. You are invited to take part in the painting process and leave a colourful imprint of your hand on it. This practice is inspired by the emergence of "coffin clubs" in many parts of the world, where people come together to build their own coffins and decorate them in an aesthetic that represents their values and taste.
JUNE 13-23: CONTEMPLATION
Surrounded by flowers and candles, the coffin is ready – for you. If you want, you can lie down in it. Just take off your shoes and climb in. Take your time and just observe what it feels like. You can also make an appointment with Anja, who will guide you through the experience. During an individual session, you can embark on an inward journey and look at your life from the perspective of its final day. Afterwards, you can share your reflections on the wall, where we collect wishes, hopes, and visions we want to realise before we die. 
JUNE 24-25: CREMATION
The flowers and candles are placed into the coffin. The coffin is loaded into a hearse and transported to the crematory. After the cremation, an urn containing the remains of the exhibition, returns to the gallery. During a farewell ceremony, we gather as a community to create and hold a ritual space. Together, we say goodbye to what has passed and honour what we would like to remember.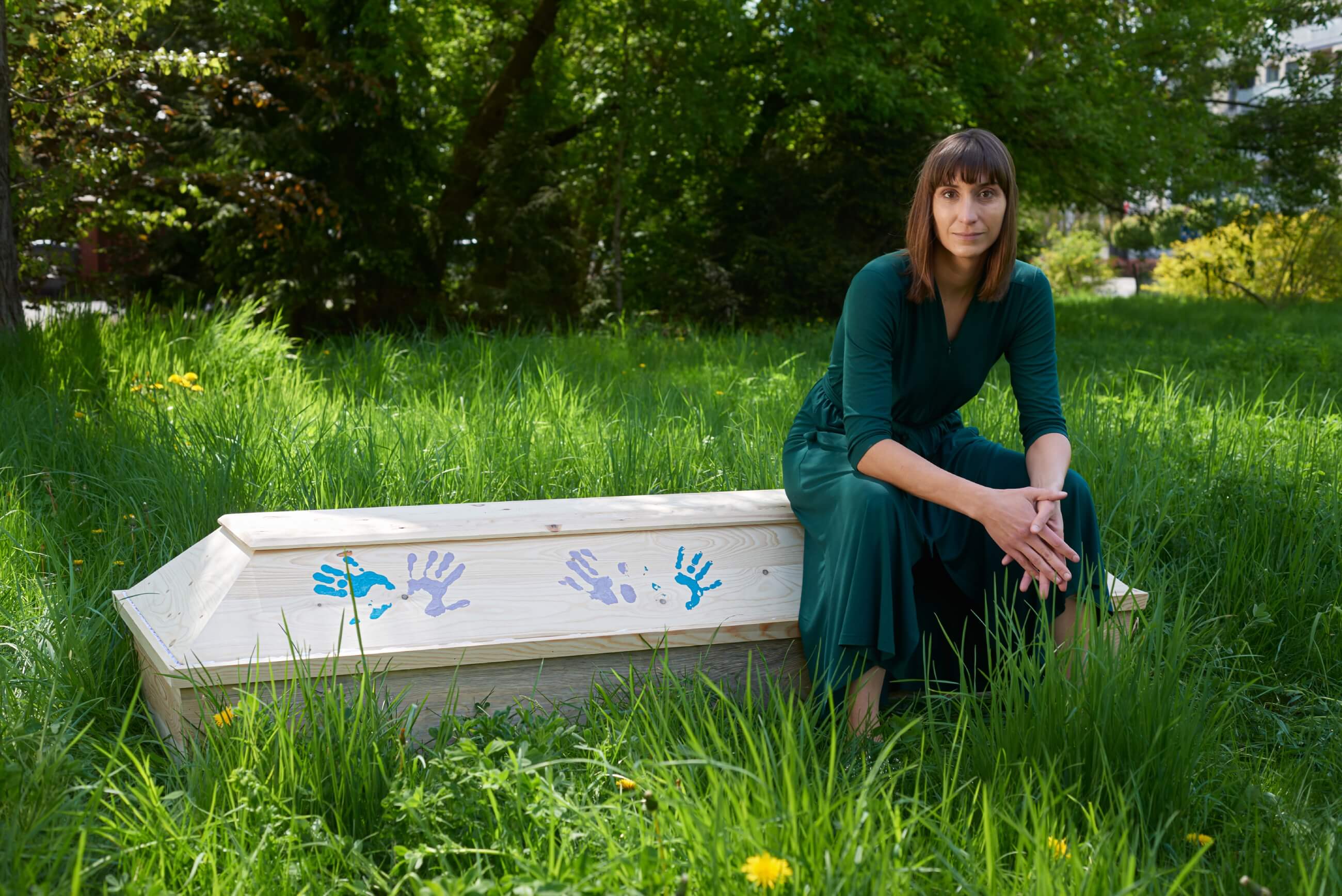 Anja Franczak is the founder of the Institute of the Good Death and an advocate for open dialogue and education about dying, death and grief. After her studies of Scenic Arts in Hildesheim, Bologna and Zagreb, she worked in the film industry for 10 years. A close encounter with death led her on a new path. Today she is a trained grief counsellor, death doula and ritual celebrant. She offers emotional support for dying people and their families, as well as people grieving the loss of a loved one. She crafts individual farewell rituals and conducts personal funeral ceremonies. In all her work, she creates safe spaces to encounter and experience grief and loss in a tender way. In her first exhibition Our Death, her fields of work come together in the space of art.
Concept and performance: Anja Franczak
Mandala and ceramics: Razalina Busel
Curatorial cooperation: Joanna Synowiec
Gallery program: Katarzyna Roj
Production: Monika Muszynska, Joanna Sokalska
Visual identity: Kuba Maria Mazurkiewicz
Exhibition set design: Razalina Busel, Kuba Maria Mazurkiewicz
Scents: Bottanicum – Monika Opieka-Nowak
Promotion: Joanna Glinkowska
Cooperation with the public: Magdalena Weber
Organizer: BWA Wrocław Galleries of Contemporary Art
Co-organizer: Institute of the Good Death
Partners: Zakład Niebieski, Pogrzeby Kamińscy, RISK made in Warsaw
Media patrons: Notes na 6 Tygodni, Kontakt, Więź
Subscribe to our Newsletter
Stay up to date with the latest news from BWA Wroclaw!